Locksmith Training Course
Serrurier Montreal > Blog > Locksmith Training Course
What Should You Look For In A Locksmith Training Course?
Locksmith training courses can range from beginners courses for newbies to advanced courses for expert locksmiths looking to advance their skills.
There are numerous factors that you need to consider before opting for a course, and you should ideally talk to someone who has taken such a course to effectively understand your options. You should also know that a course is just the tip of the iceberg, and you'll have to undergo vocational training for a number of years to become a skilled locksmith.
Formal locksmith training is a boost to any resume especially if you seek to branch out into specialized locksmithing.
Training will allow you to develop skills such as manual dexterity, mechanical gadget expertise, math skills, carpentry skills, and various other skills. In some cases, training may be necessary as new products with complicated locking mechanisms are constantly being developed. Professional locksmiths also undergo training courses to get themselves up to speed. 
What kind of locksmith do you want to be?
You can opt for a service-specific training course that primarily covers your avenues of interest. Every beginner will need to undergo a basic course that covers aspects such as lock fitting, opening, lock identification, rekeying, deadbolt preparation, home lockouts, and auto lockouts.
Once you have completed an entry level course, you can opt for a course in access control, safe locks, electronic locking systems etc. This is why it is crucial to thoroughly go through all the available training courses to ensure that a particular curriculum is ideal for you.
Visit the website of the Associated Locksmiths of America (ALOA)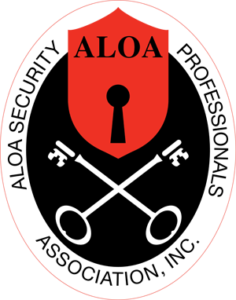 The ALOA is the most comprehensive body of information with respect to locksmith training courses in the United States and Canada.
The website has detailed information about courses, local locksmith associations, professional locksmiths looking for apprentices, education conferences, and various other locksmithing seminars and classes. The ALOA training center itself provides a variety of training courses which may be the ideal option for your requirements.
You could also become an apprentice
Some professional locksmiths offer training courses which are almost always in the form of an apprenticeship.
These apprenticeships are likely to be informal in nature and the ALOA is working on developing a formal structure for most of these processes.
If you ever seek to branch out into institutional or electronic locksmithing, a formal training course is likely to be a requirements, but if you can show on your CV that you were an apprentice to a master locksmith, it will be as good.
As an apprentice, you are more likely to get access to real world vocational training and if you manage to find the right trainer, there really is no substitute.