Serrurier-Montreal > Lock Change
Lock Change Services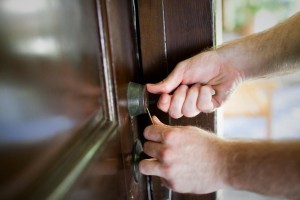 Have ever thought of changing your locks? When your keys are lost, stolen or simply misplaced by any of your house members or by you, you will dearly need the service of a locksmith.
But we shouldn't forget that during construction, several contractors normally get access to your lock box and so it is safer to first change the locks before moving in your new house.
These are enough reasons why you need a locksmith to change your locks. Locksmiths are experts highly trained in providing services such as key cutting, key re-keying, and lock installations, lock replacement and any other key and lock complication you might have.
Montreal Locksmith is your security partner, the only person you can trust with your car or residential key.
We are highly trained to handling commercial, residential and even car key locksmith service and guarantee you the safety you need.
When you need to change your locks for obvious reasons such as re-enforcing security or due to lock damage or lost keys, it would a wise choice to hire a locksmith.
Since doors are always fixed, you don't need to uninstall them. Just make a call to a professional locksmith who will jump in to action and immediately take the old lock out and have it replaced with a new type of your choice. Changing the lock may be a bit expensive but it guarantees you more safety than simply doing key cutting, you can never tell who might have picked your missing pair.
Lock Installation Service
The Montreal Locksmith will always help you out with routine lock and key issues beyond changing the locks to key replacement, key duplication, and even lock installation.
With the use of technologically superior and sophisticated locksmith tools and machinery, your locks will be changed in minutes. The level experience will guarantee accuracy and efficiency in service and depending on the lock types and the number of doors and locks required, you can consider the work done in less than an hour as common with average homes.
Most locksmiths will as well supply you the best lock brands in the market such as Schlage, Kwikset, Arrow, Union, Yale, Chubb and many more options both for homes and auto.
Although most people have basic knowledge on how to change locks, the idea may not be good enough since you the door might refuse to lock or open or you may simply not fix it accurately.
Hiring a locksmith with the right know-how will ensure that your new lock is upgraded to higher security requirements, and is up to the