Serrurier Montreal > Blog > Lock bumping
Lock bumping: What you can do to avoid the dangers of getting robbed
Also known as key bumping, lock bumping is a lock picking phenomenon that has been getting a lot of attention in the recent times.
With a majority of homeowners still using the cylinder-type locks for their main entrances, the rate of break-in crime is still going strong in many parts of the world.
So what exactly is lock bumping?
Lock bumping is a technique for opening a pin tumbler lock using a specially designed key called the 'bump key' and applying pressure on the inner tumblers/pins to bump them out of their locked position. This frees up the lock levers and allows the key to be turned within the lock with negligible effort.
The bump key also known as the 999 key or the rapping key can be acquired easily from a local hardware store or ordered from an online website.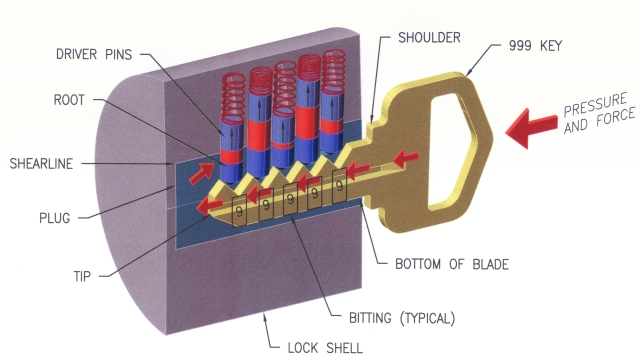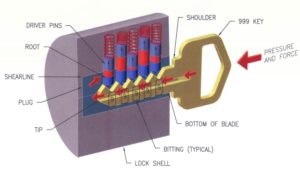 Since the technique doesn't require any specialized skill, it allows the burglars to conveniently slip into your home without making any noise or leaving any signs of forced entry.
About 98% of the basic locks do not carry any safety mechanism to prevent bumping.
And with countless videos on YouTube and instructional articles on the internet, anyone can learn lock bumping and make a majority of the locks available in the market insecure within a matter of seconds. It is therefore important for you to consider this aspect of your home security when moving into a rented house or buying a new one.
How you can protect your home against lock bumping?
Since it is pretty easy to bump a lock with an adequately ridged bump key, there are a few ways in which you can ensure additional safety against break-ins into your property.
You can install chain latches onto the doors that secure the main entrance of your house.
Although, it does not make your lock bump-proof, it adds an additional security barrier for the thief to deal with.
Replace your basic locks with 'bump-resistant' ones to make your property absolutely bump proof.
Although these complex mechanism locks might be a little harder on your pocket, it is a worthwhile investment when compared to the amount of damage or loss you might incur in the event of a robbery.
If you are not comfortable with spending another few hundreds on new set of locks, you can get your existing locks modified by your neighborhood locksmith.
By adding a few extra pins to your deadbolts and locks, you can effectively make the bumping process a tad harder for the intruder.

You can install an automated home security system that detects any trespasses to the property and notifies the homeowner about the lock being compromised, by setting off an alarm.